Shear Attraction offers the Pravana Hair Collection has our house brand for hair care and coloring.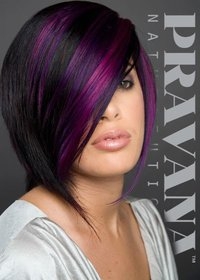 Pravana also has a variety of smoothing services, including 3 products in their texture control line that we offer at Shear Attraction. There are 3 different levels: temporary, demi-permanent, and permanent, and are listed below in that order. They vary in application time, cost and longevity.
Keratin Glazing
New to our salon is Pravana's Keratin Glazing. Not only does the this service provide an outwardly healthy shine and sleek look, but it actually resurfaces the hair by coupling pure keratin protein with special silicones providing long-lasting shine, smoothness and protection. This can be done alone or as an add-on to any cutting or coloring service. (Cost $15 add-on, $25 alone)
Perfection SmoothOut
Introducing  the new innovation to instantly and safely transform coarse, frizzy, curly hair to smooth, straight and superbly shiny with results lasting months.
Perfection's proprietary Nano-Amino Complex miraculously suspends the internal textural memory of the hair to safely transform it to a new, soft and sensual look and feel.
By following the Perfection SmoothOut service with regular use of the Perfection Smoothing sulfate and salt-free Shampoo and Conditioner, the hair will retain its new sleek and smooth memory state for 8-12 weeks. It will then gradually return to its pre-service state with no line of demarcation. ($55+)
Keratin Fusion
Keratin Fusion Texture Control is an innovative salon service to instantly and permanently transform coarse, curly, unruly hair to smooth, straight and shiny. Or fine limp hair into volumous and beautiful. Contains no thio, no sodium hydroxide, no formaldehyde, no aldehydes.
As part of the Keratin Fusion service, Pravana's Thermal Insulator protects the hair during the texture control process and serves as an insulating shield that provides long-lasting, shine, and an incredibly smooth surface. This service will provide the results on treated hair permanently. (cost $75+)
If you are interested in any of these services, please call the salon today to schedule a consultation or appointment!